There have been some memorable menswear moments in film, some of which we've documented with our ongoing series, Reel Style.
Costume design is largely an underappreciated part of filmmaking—which is ironic considering how revered the stylist position is in print and digital media. Often the films that take home awards for costume design are historical or fantastical films that require the costume designer to create an entire sartorial universe. But there's something to be said about the genius it takes to create looks that are familiar, realistic and yet still interesting to look at.
One such role that's hard to dress is that of fathers in film. How do you dress a dad in a way that's both realistic and interesting? For all of the middle-of-the-pack, sartorially speaking, middle-aged men in movies like The Hangover or in the realm of a run-of-the-mill 21st century romantic comedy, there are silver screen dads that have helped shape our image of what dadcore is, and others who have shown that dads don't always dress like prototypical dads.
From mob movies to coming-of-age stories to slapstick comedies, these are the father figures who have helped shape our vision of fatherly fashion.
Donnie Brasco in "Donnie Brasco" (1997)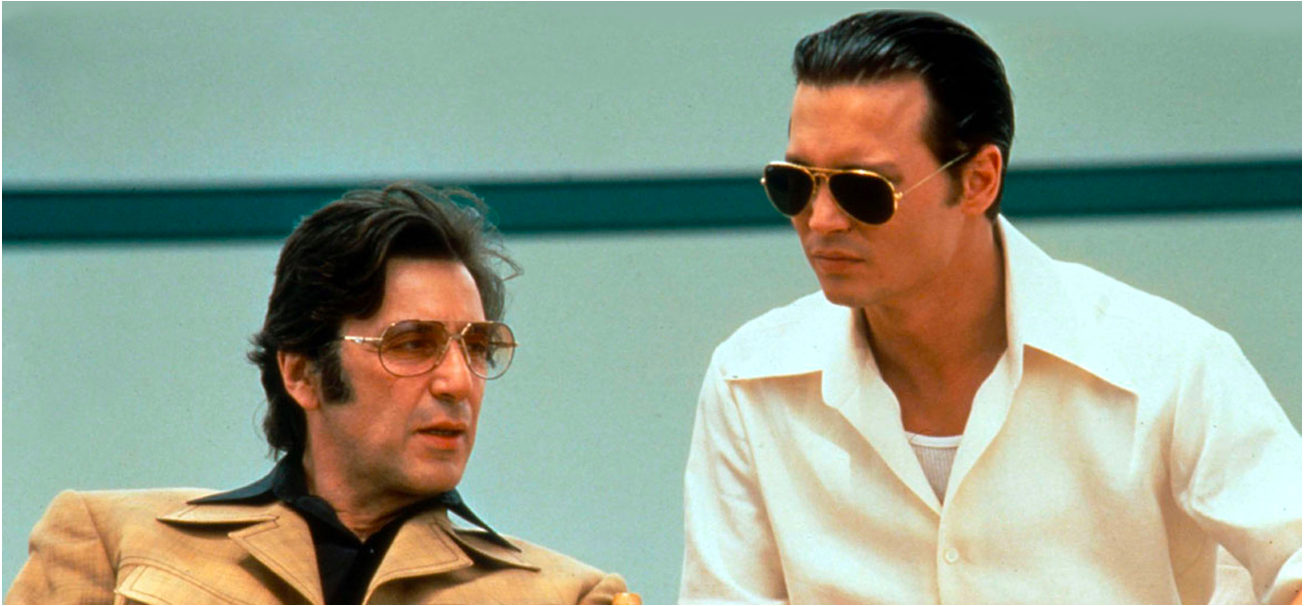 Johnny Depp's portrayal of Donnie Brasco in the 1997 film of the same name is loosely based on the story of one Joseph D. Pistone, an undercover FBI agent who infiltrated New York's Bonnano crime family in the 1970s. Like the real-life Pistone, the fictional Brasco's already-complex position is complicated by the fact he has a wife and children, who are put at risk the further he delves into the mafia.
Like much of the film, Brasco's sense of style is slightly adapted for the screen. That's not to say that Pistone didn't have a certain swagger about him, but when comparing what Depp wears in the film to the photos of Pistone, there's a noticeable difference. Sartorially, Donnie Brasco embodies the mythologized '70s mobster, with dark aviator sunglasses, leather jackets and perpetually slicked back hair. Throughout the movie, Brasco is almost always wearing a collared shirt of some kind, be it a striped polo or a camp collar shirt, sometimes tucked into belted trousers, with a jacket worn on top—but not always. There's something quietly authentic about Brasco's looks, even though we know that everything about him is performative.
If you were to take the pieces Brasco wears and slightly update the fits, you'd have a wardrobe fitting of the modern day "#menswear" dad: very casual tailoring, soft collared shirts and an overall look that's not too casual, nor too stuffy.
Luke Glanton in "The Place Beyond The Pines" (2012)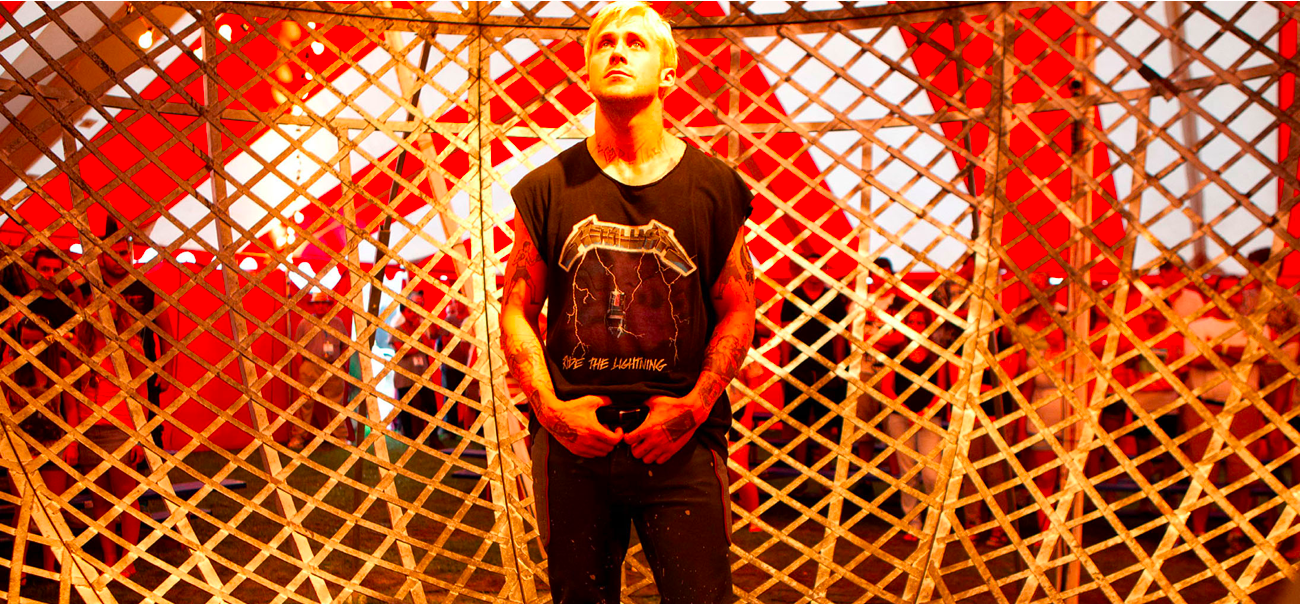 Is Luke Glanton, played by Ryan Gosling, stylish? Or is he simply incredibly good-looking and tattooed?
The Place Beyond The Pines' antihero is presented to us as a stunt motorcycle driver attempting to reconnect with his ex and his young child, all while getting caught up in a life of crime. The clothes he wears in the film are indicative of the rebellious, vagabond life he's lived. Dressed in tattered tees, stained motorcycle pants, a red leather jacket and black boots, Luke's style is fairly simple, if a bit scumbro-ish. The Metallica tee, with its cut sleeves is arguably Luke's defining piece, but getting it in the film required personal permission from Lars Ulrich.
On the whole, Luke doesn't wear much—not just because he walks around bare-chested, but because the nature of his life means he doesn't own much in the way of clothing. Instead, everything he owns is either utilitarian or, one imagines, meaningful to him. There's something about that—everything being well-worn—and the blasé attitude that Luke carries that exudes cool.
Glanton's behavior might not be something fathers would want to emulate, but style-wise, he is the archetypal, "that guy's a dad?" father—the coolest of "cool dads." He's someone who dresses for themselves, with little regard for what others think. It's hard to not to see parallels between what Luke wears and the kind of clothes that the likes of Fear of God or Amiri have put out over the years. You could even argue that Luke is the precursor for the likes of present-day Machine Gun Kelly or late-2010s Justin Bieber—though neither is a dad… yet.
Clark Griswold in "National Lampoon's Vacation" Series (1983-1997)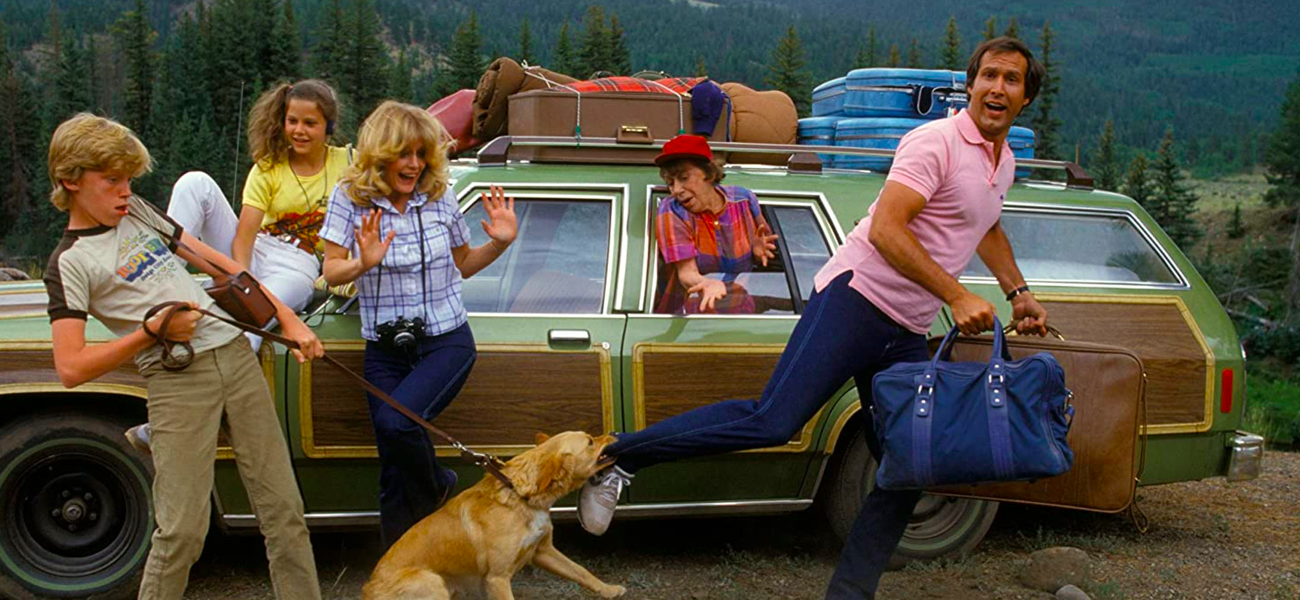 Chevy Chase's Clark Griswold, the father figure from National Lampoon's familial franchise is one of the icons of so-called dadcore—a godfather of fatherly style, if you will. Part of what makes Clark Griswold's style easy to emulate and fun to look at is that, between the films, he wears a lot of clothes (unlike Luke Glanton, say).
In National Lampoon's Vacation, the first film in the series, Clark Griswold embodies the typical dad on a relaxing vacation, with an array of polos—ranging from Lacoste to Yves Saint Laurent—dark indigo denim, Converse trainers and shorts that would likely be all the rage 40 years later. In the sequel, National Lampoon's European Vacation, Griswold leans into the overzealous sightseer abroad, donning a beret or traditional German beer garden garb or sporting a tan field jacket with a camera slung around his neck—a classic dad move. Still, for much of the film, he manages to look effortlessly stylish thanks, in large part to his layering: a crewneck over a collared shirt; a Harrington jacket, V-neck sweater and button-up shirt combination; the aforementioned field jacket over an oxford; even on the plane, his blue rugby shirt stands out. In Christmas Vacation, the last of the films released in the '80s, Clark's wardrobe is a masterclass in cold weather wares: chunky knit cardigans, Fair Isle knit sweaters, his bulky grey parka, a down-filled vest layered over a flannel shirt with a Chicago Bears cap. Even his Santa costume oozes dadcore cool, as it's made from wide wale corduroy.
There's no denying that Clark Griswold and dadcore are inextricably linked, with many of his looks coming to typify the dadcore meme. The question, however, is: did dadcore inspire Clark Griswold's style or did Clark Griswold's style inspire dadcore?