Seemingly always at the centre of things, Kanye West has provided us with two decades worth of music—and lots of other things. Considered by many to be among the most influential forces in contemporary fashion—especially at the intersection of fashion and streetwear—Kanye's style has been dissected and debated for years, with a fine tooth comb picking out the subtle changes and details.
At the height of his influence—arguably in the mid-2010s—shoes that were sitting on shelves for weeks would sell out after pictures emerged of Kanye wearing them. He was a one-man marketing and trend making machine.
Kanye's outsized personality and outsized influence make it seem like every outfit he wears is instantly iconic. His style has evolved with his music, with distinguishable aesthetic and sonic eras over the last two decades, meaning that the annals of Kanye's style are filled with varied outfits and countless brands.
Which are the best, though? While this is certainly going to be a conversation with a clear consensus (and some contention), we've taken a stab at answering that, taking into consideration both the era and influence, in addition to the stylistic merits.
Tags: fred-perry, kim-kardashian, givenchy, riccardo-tisci, phoebe-philo, celine, thakoon, h-m, versace, tom-ford, grammys, louis-vuitton, met-gala, dickies, raf-simons, sneakers, yeezy-750, adidas, air-yeezy-2, nike, ralph-lauren, polo-ralph-lauren, yeezus, yeezy, rick-owens-drkshdw, rick-owens, maison-margiela, celebrity-style, kanye-west
Roc-A-Fella Weekend Jump Off (2004)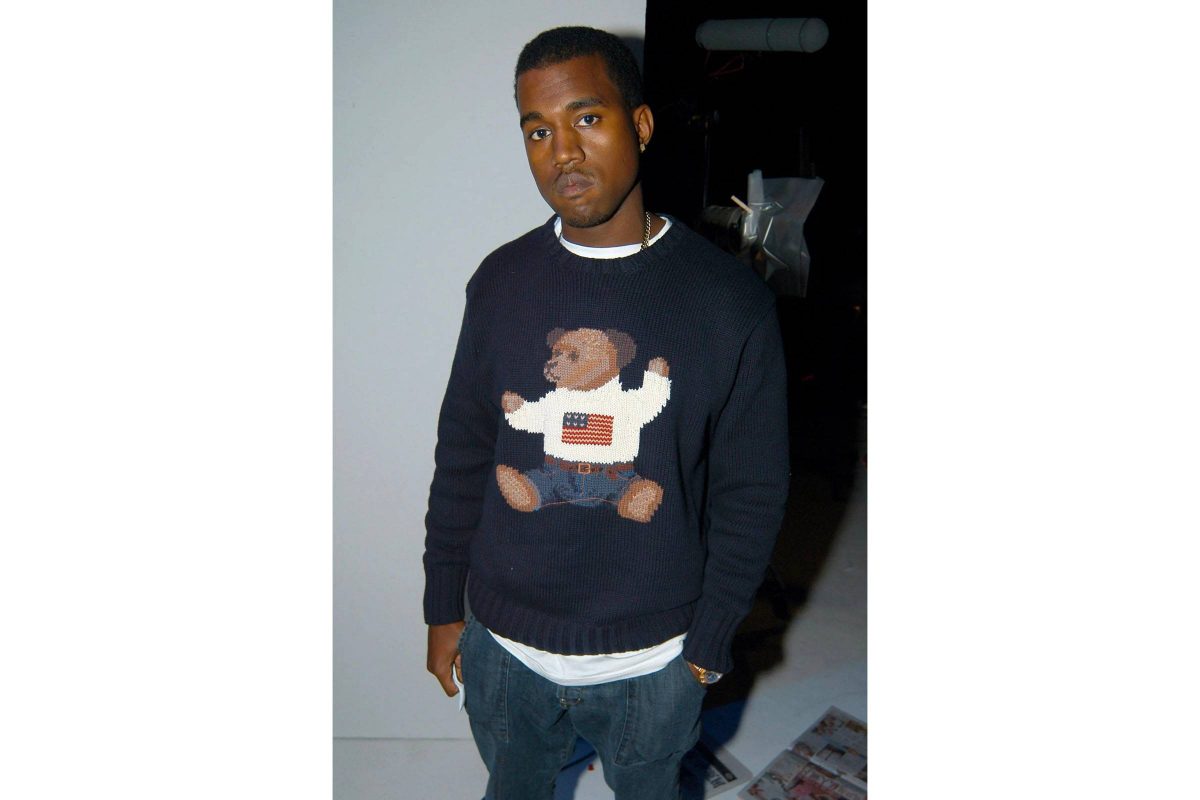 Album Era: The College Dropout
In early 2004, Kanye was best known as a producer. In fact, when he took to the stage at Richmond Convention Center in January of 2004, his debut album, The College Dropout, hadn't dropped yet. At the time, Kanye was putting the finishing touches not on the album, which would officially debut in February, but on the rollout, doing promotional appearances and filming videos. When he appeared at Richmond Convention Center, for Roc-A-Fella's Weekend Jump Off, he had apparently been filming clips earlier in the day.
But we digress.
What Kanye wore on that day was emblematic of the producer-turned-rapper, who was framing his debut album—and, really, his debut triumvirate—through the lens of a collegiate journey: a Polo Ralph Lauren intarsia knit Polo Bear sweater, with a gold Roc-A-Fella chain and a matching watch. Kanye's love for Polo is by now well-documented, but, at the time, it set the stage for the prep-adjacent Kanye that took the hip-hop world by storm in the mid-aughts.
Pre-Grammy Brunch (2005)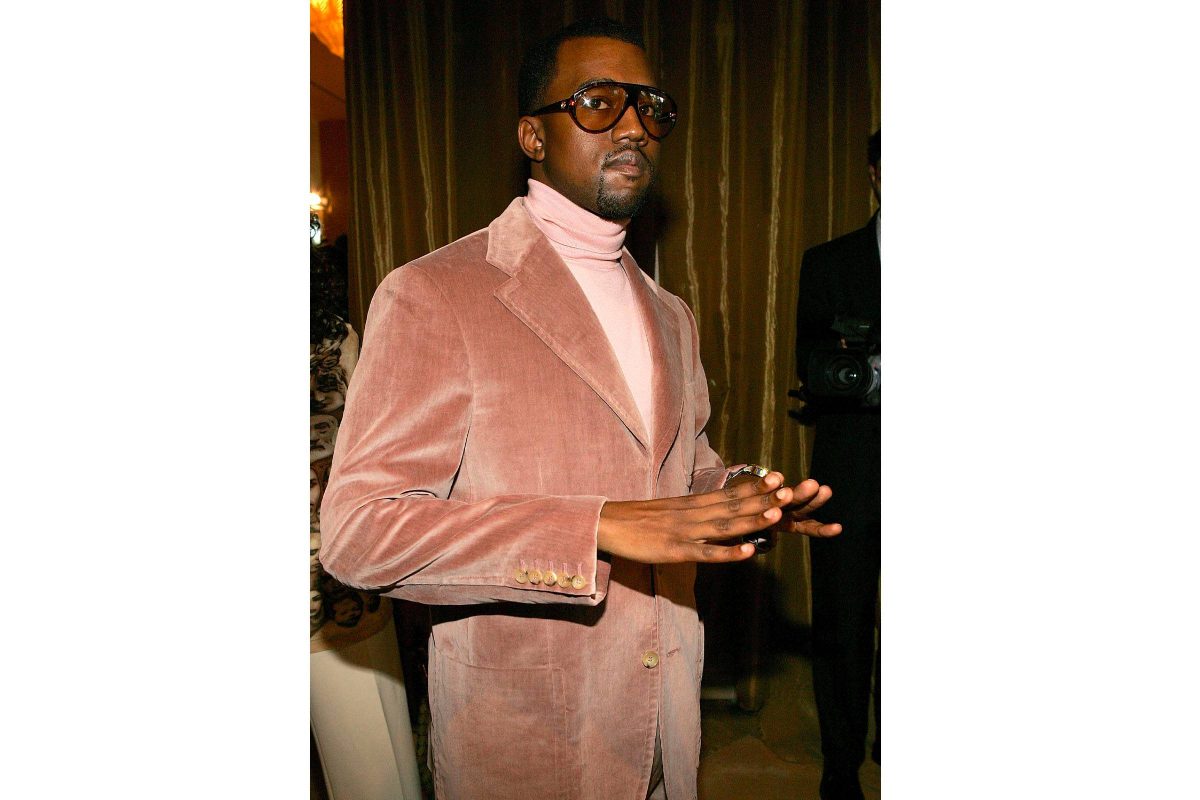 Album Era: The College Dropout / Late Registration
It would be a little disingenuous to say that early 2005 was exclusively part of either The College Dropout or Late Registration eras. At the time of the 2005 Grammys, Kanye was between those two albums, basking in the after-glow of *The College Dropout's success and preparing to release Late Registration. Kanye took home Grammys for Best Rap Song and Best Rap Album, in addition to performing "Jesus Walks" and being nominated a whopping ten times in 2005.
Quite famously, he took to the stage in an all-white suit to accept his awards, but it was what he wore to a pre-Grammy brunch that's worth highlighting.
At the Artist Empowerment Coalition, Kanye did his best Cam'ron impression, rocking an all-pink ensemble composed of a velvety suit with strong lapels—à la Tom Ford, as CR Fashion Book pointed out—,a matching turtleneck and tinted sunglasses. It was a departure from Kanye's more unruly takes on tailoring—his penchant for wearing his shirts untucked or undone with an aloof necktie—or more casual getups. More interesting, perhaps, is that it underscores Kanye's long standing love of monochromatic looks.
VH1 Hip-Hop Honors (2005)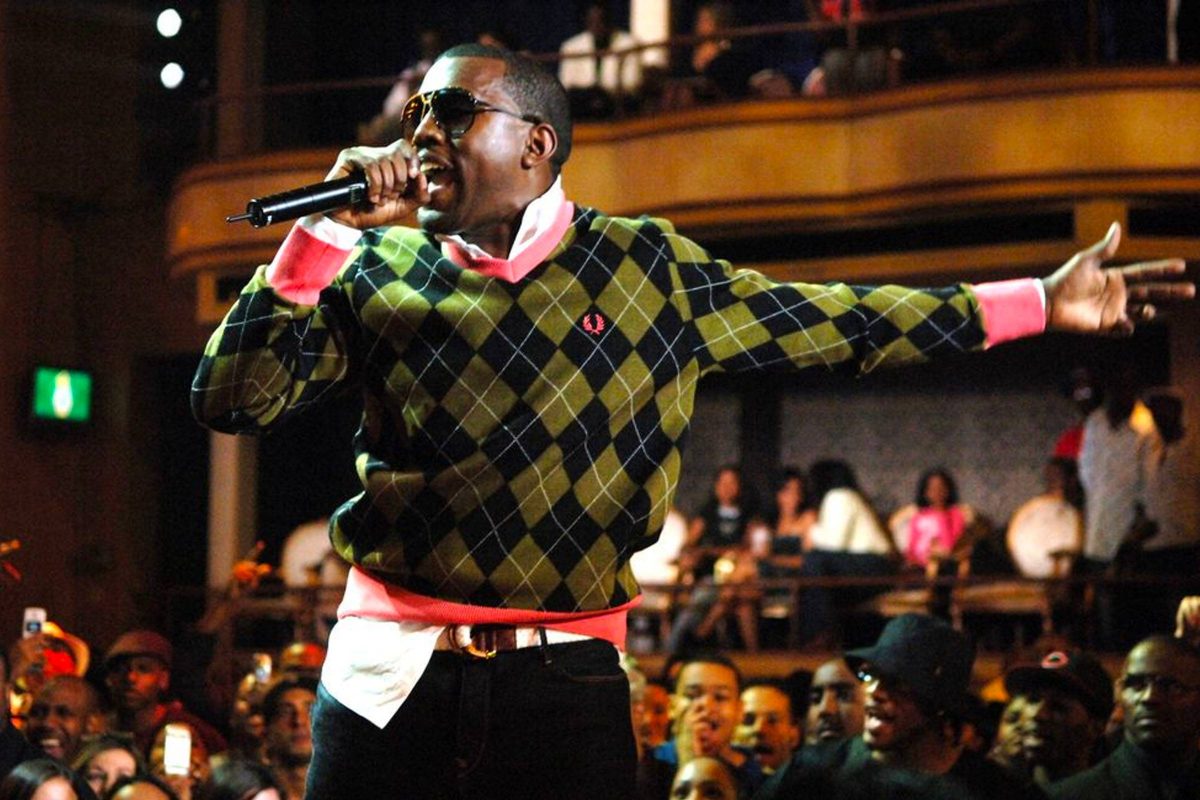 Album Era: Late Registration
Kanye's next big 'fit saw the aviator silhouette he wore to the pre-Grammy brunch return, albeit with a more classic, non-pink tint. By the time the VH1 Hip-Hop Honors rolled around in September 2005, Late Registration had dropped and Kanye, now one of the biggest names in hip-hop, took to the stage to perform—twice, actually.
For one of those performances, Kanye donned the aforementioned glasses, with an untucked white shirt layered under a brown and beige argyle sweater with pink accents, courtesy of Fred Perry. As with the Polo Bear sweater, the argyle was a nod to the edgy prep vibe that Kanye leaned heavily into when promoting his first three albums. But the mix of colors—brown and pink—would also become synonymous with so-called Old Kanye. Not only had Kanye worn pink before (see above), but that combination would feature in his footwear collaboration with Louis Vuitton, as well as on his Bapestas and, later, on Air Yeezys.